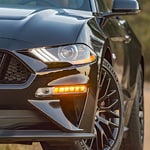 The Ford Mustang has long been a favorite among muscle car enthusiasts for the car's capable performance and affordability. Over the years, the vehicle has undergone a few modifications that make the exterior and interior styling that much more appealing to a wider demographic.
Choose one of our Malouf Ford models that include fastbacks, convertibles, the BULLITT, or the Shelby GT. The exterior maintains its aerodynamic profile that slopes sharply in the rear. The front end also features the iconic sloping features. The fierce look of the headlights occurs thanks to the sharp-angled housing. The broad, trapezoid-shaped grille boasts the Mustang emblem. Sharp lines combine with sculpted areas and flared wheel wells to provide a retro appearance.
The trunk lid features an upward curving spoiler. The interior has rounded edges around the instrument panel gauges that include a 12-inch digital display. The air vents also have a round retro look.