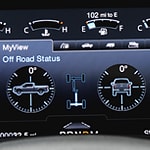 Occasionally there is a vehicle that is head and shoulders above the competition. That is what you get when you go for the Ford F-150 Tough. It simply outlasts others and makes for a great passenger vehicle for any and all to enjoy.
There is a very neat feature called Trail Control. This is a cruise control system for off-road terrain. That is something that didn't seem possible not all that long ago, but now is it a very real part of what Ford has to offer to its customers on this vehicle.
Aside from that, you will probably appreciate the fact that it has military-grade aluminum-alloy materials in the body of this truck. That makes it more capable than ever of carrying a great amount of material in the bed of the truck whenever it is called upon to do so. People like this because they get to move items about with greater ease.