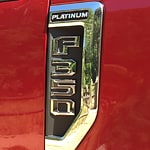 At Malouf Ford in Brunswick, NJ, we have the Ford Super Duty in our inventory. So if you are interested in a heavy-duty work truck or something that will tow a lot of weight, the super duty is a wonderful option.
The Ford Super Duty offers gas and diesel engine options. If you prefer a diesel engine, there is a 6.7-liter Powerstroke V8 turbo. This engine has 475 horsepower as well as driver-activated exhaust braking. If you want more control going downhill as you tow, it is great to have the auction or exhaust braking. There is also an operator commanded regeneration with active inhibit.
The gas engines include a 6.2-liter flex-fuel V8, which is wonderful for mid-range power. There is also a 7.3-liter gas V8 that packs 430 horsepower and 475 lb-ft of torque. There is a 10-speed transmission that is automatic and has v modes you can select from to use for various road conditions.